ACS joins World Economic Forum
Ha Noi, Vietnam, September 14: ACS, the professional association for Australia's ICT sector, has joined the World Economic Forum as a member. This is the first time that a professional association in the ICT sector has been admitted as a member and demonstrates the importance of the digital economy for Australia's future.
Olivier Schwab Managing Director, Head of Business Engagement, World Economic Forum welcomed the ACS.
"We are delighted to have invited ACS membership of the World Economic Forum. As the international organization for public-private cooperation, the Forum provides unparalleled opportunities and access to collaborative networks, global leadership exposure and timely insights on key strategic issues. Never has there been a more pivotal time to interact with the world's top leaders and experts, committed to advancing the issues that matter the most."
The World Economic Forum, committed to improving the state of the world, is the International Organization for Public-Private Cooperation. The Forum engages the foremost political, business and other leaders of society to shape global, regional and industry agendas. (www.weforum.org)
Australian Minister for Small and Family Business, Skills and Vocational Training, Senator the Hon Michaelia Cash, congratulated ACS on the engagement with the World Economic Forum.
"As new members of WEF, ACS is playing an important role in building Australia's digital skills capability. Doing so is essential for Australia's strong economy, and I commend them for their contribution," Minister Cash said.
ACS President Yohan Ramasundara thanked the WEF and Minister Cash for their recognition of ACS.
"It is an enormous honour to be admitted to the World Economic Forum. This is a group which is developing global pathways for a brighter economic future for people across the globe. Australia's technology sector has an enormous part to play in this future, and our membership of the WEF will see us better able to influence the development of policy and frameworks for the Fourth Industrial Revolution."
"This admission is recognition of the work ACS has been undertaking to help shape the digital economy in Australia, including our annual flagship report ACS Australia's Digital Pulse and our upcoming papers on the Internet of Things, Blockchain and Artificial Intelligence. A professional association in the modern era must be more than a society of members but must be making positive contributions to policy development and the profession. I am pleased to say that we are doing this and will continue to do so."
Senator the Hon Michaelia Cash is leading the Australian delegation at the World Economic Forum ASEAN Summit being held in Ha Noi, Vietnam 11-13 September.
Mr Ramasundara and ACS CEO Andrew Johnson are attending the ASEAN Summit as ACS member representatives of WEF.
-ENDS-
Further information
Thomas Shanahan
External Engagement Manager
M - 0417 678 474
E - thomas.shanahan@acs.org.au
About ACS
The ACS is the professional association for Australia's Information and Communications Technology (ICT) sector. More than 42,000 ACS members work in business, education, government and the community. Our vision is for Australia to be a world leader in technology talent that fosters innovation and creates new forms of value. Visit www.acs.org.au for more information.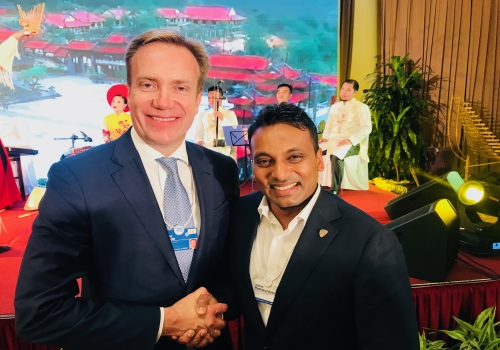 ACS President Yohan Ramasundara with WEF President Borge Brende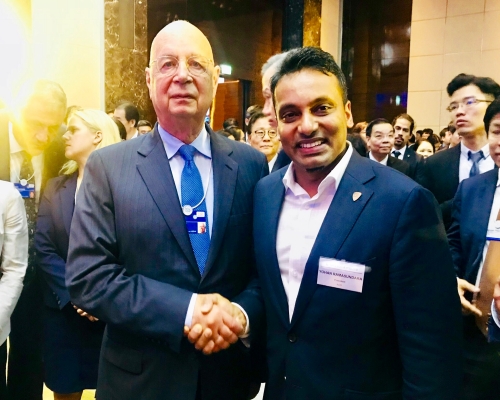 ACS President Yohan Ramasundara with WEF Executive Chairman and Founder, Klaus Schwab